What is a PineTime?
PineTime is a Smartwatch, developed by Pine64 and built on a Nordic Semiconductor nRF52832 SOC.
I am currently running InfiniTime on it, at version 1.9. A Linux based OS for this smart watch.
It sports a 1.3 inch 240x240px display, is water proof to about 1m of submersion, it has 512kb of Flash Storage and 64kb of Ram.
And Yes, the last two values where kb. So by any modern standards it is a pretty under powered device.
But, it is a 26€ Linux powered smart watch, so let's see how much you get for that amount of money.
The looks
How does it look?
Well, here are a couple of pictures for you: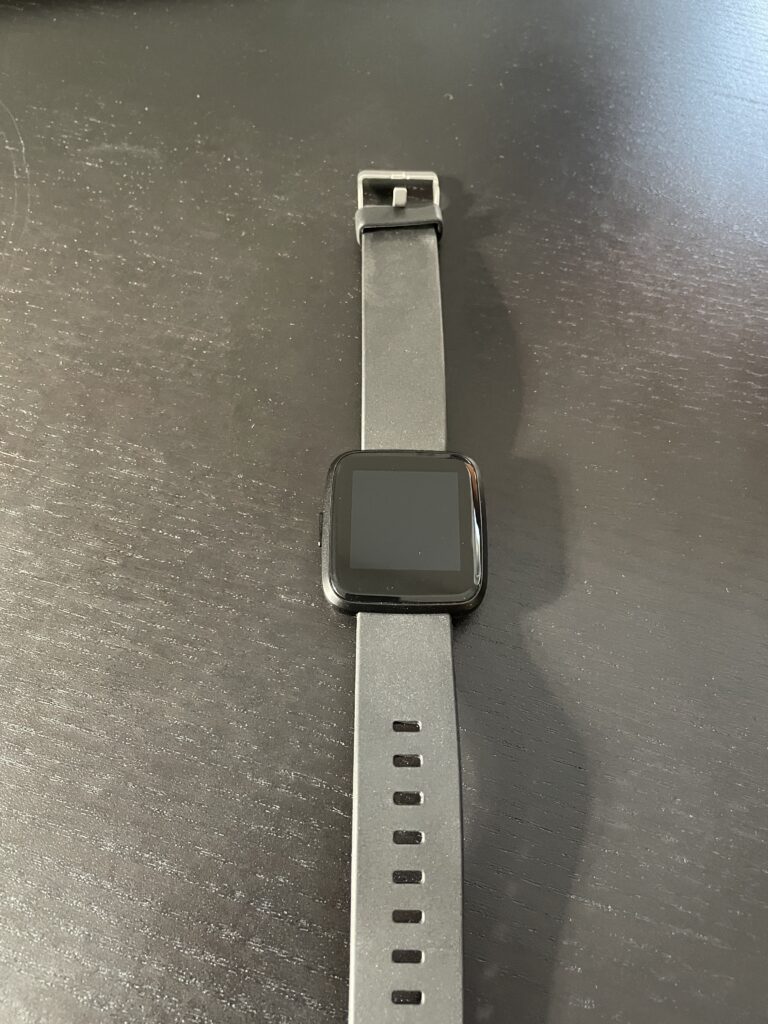 One thing this watch manages really well, is looking rather premium in images. Not sure how it does it, because once you hold it in hands, the premium look fades,
It is a full plastic device and it's the "Chinese take out" kind of plastic and it feels like it. The worst thing about it, however, is the band. This is the cheapest kind of rubber I have seen in a long time and it smells like instant cancer. But they did build the watch to current standards, so you can replace that band with about any band that is 20mm. Other then rather prominent "smart" watches by a fruity manufacturer.
Full disclosure, I am a watch fan, analogue that is, my daily driver is a "Tissot Le Locale Powermatic 80" but I do own a couple of other Swiss automatic watches as well. Any of these are way beyond 26€s.
I also own a "Garmin Fenix 6 Pro X Solar something" and an "Apple Watch Series 4", both cost more than 26€s.
This is not a boast, and I am not going to compare this watch to any of the analogue models, since this would be very unfair as these are of a way more premium built than any of the smart watches, but I will compare it to my smartwatches.
So how does it hold up?
Let me first start at battery life, as this is in my eyes a very important thing for a watch, after 3 days of being on full time, it is at about 61% of battery left, my Apple Watch would have died about a day ago, however the e-ink Garmin watch lasts for about a month, if you don't use the GPS module.
So all in all not too bad, but both of the other smart watches offer a low power mode that extends the battery life and also are able to power off, witch the InfitiTime OS does not offer. These things can save a lot of battery and that is very helpful if you are on a longer hike, like I often am.
Also the PineTime does not come with GPS or a microphone on it, which is clearly good for privacy, but does limit it's function as a smart watch.
And if you are running an iPhone, you won't be able to sync your notifications to it, since Apple is a bit protective about their APIs.
Conclusion
So what you get is a cheap watch, that looks cheap, does not offer a lot of the things other smart watches offer and if you are on iOS doesn't even show you notifications.
So why would you get one?
As for me, I was curious as to how well such a device would handle, and honestly, for it's price, it is still a very good value, particularly if you factor in the fact, that this watch does not spy on you. It tracks your steps and heart rate locally and you get to develop Apps for it in C, which is my next step for me, since there is no running App on it.
I have ordered a new watch band, a leather one, which cost me more than the watch, but will make wearing it bearable.
And, developing on a device, that has limited resources like this one will be a lot of fun, as you need to think very carefully about datatypes, loops and so on, which is a very good exercise for any developer. I mean, the Apollo navigation computer had 4kb of Ram and they got to the moon, where to go with 64kb, right?
All in all, I am not to unhappy with this device, I bought worse products for way more money (JingPad….), InfiniTime is well developed and the documentations for developers is way better than anything offered by big tech companies.
It might not be the best smartwatch you can buy, but for me, with all it's little flaws, it is the right smartwatch to buy.
Also, this watchface speaks for itself: