Well, at least one of them was creative when it came to choosing a name…
But before we get started, I would like to make one little remark, this blog entry was requested by two people on fosstodon.org. At least I think that is what they meant by: "Please blog about your experience". So people seem to be reading what I am writing here and that makes me very happy. So to you, who you are reading this right now: Thank you for taking the time!
Why am I doing this?
Way back, when I was still in school, this is how the world worked: You earned some money and you spent it on something. That something belonged to you after the purchase and you could do with it what ever you wanted.
But sadly the world has changed since those days, the world has moved to subscription plans, want music? 10€ a month. Want TV? Well depends 15€ there, 10€ there, 5€ here and oh yeah, 60€ here. Phone? Sure no problem, data plan plus payment 50€ a month. Gaming? No problem, we got you covered! Books? Come on you now it. Car? Sure! House? Coming soon.
Now all of these aren't big amounts, but they sum up and they sum up fast and that is what they are designed to do, seem like little amounts, but step by step suck out every hard earned cent you got. The worst thing about it is, nothing is purchased by those payments. As soon as you stop paying, you are cut off, no matter how much money you put in.
That, at least to me, is not acceptable. I want to buy and own my stuff. Take care of it and use it as long as possible.
I still have a huge collection of CDs at home, but I was paying for Spotify anyway. Why? Well, ever tried fitting a CD into a smartphone? Or tried purchasing a Diskman? (I know I could put MP3s on the phone, not the point…)
Lately I started to figure out, that all I was listening to on Spotify was basically what I already owned on CDs, good old fashioned Rock and a bit of Johnny Cash,s ome Beatles before and after the break up etc. So what was I paying for?
The CD/MP3 Problem
Today I am very much used to modern ways of handling stuff, pick up the device closest to you and everything is right there. With CDs and MP3 you would have to sync manually (MP3s that is), a reduction of comfort was inevitable. But I was determined to get rid of my money-vampire so I rolled up my sleeves and tried to figure out a way to handle this.
Step 1: Convert CDs to MP3s
That was not to hard, as I said, most of my CDs were around for a while so most modern software can handle that job
Step 2: Sync them
That was a big problem, multiple platforms, devices, networks, different audio players, a Sonos sound system, true nightmare. I would seem devices are meant to be incompatible.
FOSS to the rescue
I remembered, that I read about a software called funkwhale a while ago, a free open source software (foss) that was run on a server to host music and stream it. Sounded perfect.
So I installed the docker version on my server, set everything up and tried to get my music on the service.
I failed. Badly.
Why? Funkwhale needs perfect tags on files to work and I was way to lazy to put these on every single file. So this is where the story ends right?
No, it is not, while researching funkwhale I discovered it used a protocol called subsonic to stream music to apps on mobile devices. So I took a look at that thing.
Subsonic Server
Subsonic turns out to be a software package of its own and it works much more like I think than funkwhale does, namely: by filenames and folders.
Setting it up was very easy, although no docker-version could be found (stay tuned, I am getting into docker, content on this blog will follow) (First ad ever?) But getting it to run on an Ubuntu 20.04 server took as much as adding a ppa and installing a deb file (and reading some documentation).
So after about 15 minutes in (including server install) I was greeted by a nice little screen: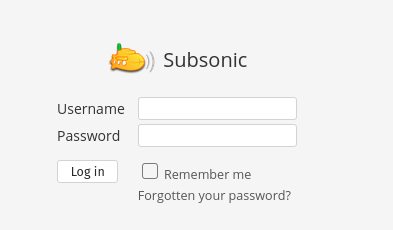 Logged in and was welcomed by a message to change the admin password from its default. (Would have done that, but ok, a message seems to be a safe approach…)
Anyway, I clicked through the available menus and found the library section, takes local paths only, so I had to mount my samba share with all the music locally, lucky me, that is not much of an issue in linux, reboot, check if mounted and sync music. What a sight….
(Yes, no AC/DC listened to yet, soon…)
The beauty of having my files on a samba-share is that if I want to add new music I only have to place it there, the subsonic server will check for new files every day at 3 am and automatically add them to my library. Very neat.
The mobile side of life
Next step: Downloading UltraSonic form F-Droid and adding the Server, username and password. Music synced in no time, even via VPN.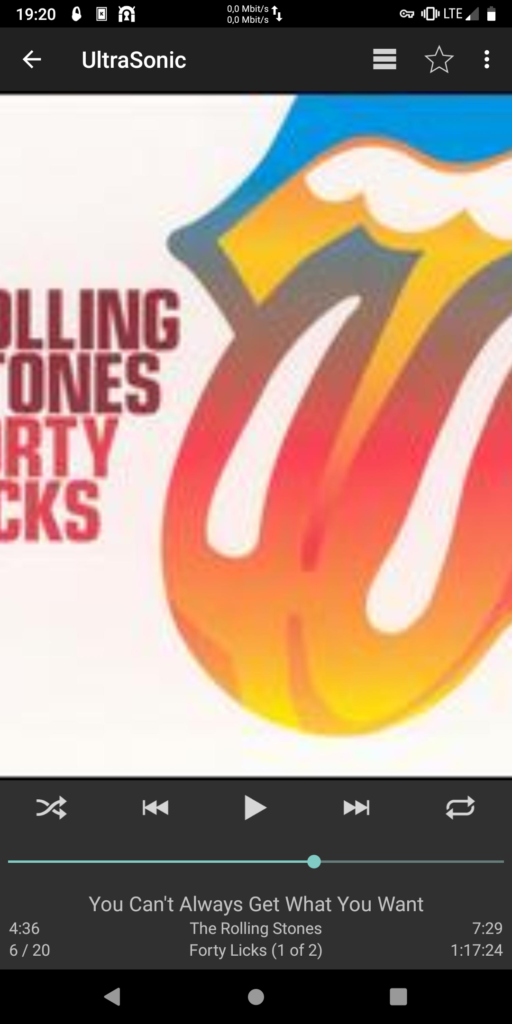 Not too bad! UltraSonic allows to add multiple servers so you can swap between a public funkwhale instance for example and your own server. It allows to brows by title, artists, albums, folders. Basically everything.
You can select files and folders to download for offline listening, maybe even playlists, will need to check that as soon as I have one.
So how is it all in all?
I have been using Subsonc for about two days now, and it has its ups and downs. So lets start with the first big thing.
Subsonic is not entirely free, which is ok for me, but I have to mention this, it is either a subscription (1€ a month) or you can purchase a lifetime license for 100€, which I did.
After that is out of the way, it is an excellent software, I supports rss subscriptions to podcasts, streams to Sonos (and works better than Airplay + Sonos….), supports multiple users, dlna and you can add internet radio stations, all of which are synced to your Ultrasonic app. You can even add Videos to that mix and stream those to your devices, but I have not tested that feature yet.
The interface is very well designed an I have not had one issue yet, streaming quality is exceptional and it syncs the following titles farther than spotify does, so if you have bad reception you will still be able to listen to music.
But there is one thing I miss, personal radios, just selecting a song and playing it, guess I will have to create playlists myself again.
But do I miss Spotify? Honestly, yes a bit, because I got too lazy to setup my own playlists during our two year affair. But on the other hand I really feel liberated by having things in my own hands again and the performance is far beyond of what I expected, so this is, where I'll be streaming my music from in the future. And I am very excited about it.
But there are other downsides, I am still only able to access it via VPN since setting up ssl for this service is not an easy task, no docker container so I have to have a vm to run it, did I mention no song radios? Music takes up a lot of storage and as far as I can tell by now, the compression rate seems to be behind that of spotify, so my mobile data rate will be attacked a little more, but I never used that up anyway.
Would I recommend it? Yes, definitely, easy to set up and easy to use, all you need is some you music you (legally) own and you are good to go.
Did I mention it works like a charm?
Also, if you should be the proud owner of an account within the fediverse and happen to read this blogpost, why don't you let me know what you thought of it? You can find me at @thewk@fosstodon.org