After spending some time with Ubuntu 20.04 LTS (Focal Fossa) I figured I'll publish a short install guide and my initial thoughts on the OS, so let's get into it.
Installing
Installation of 20.04 is pretty straight forward for those who already installed Ubuntu before. If you have not, please feel free to follow these brief instructions on how to install it.
First up head over to www.ubuntu.com and download the latest iso of Ubuntu 20.04. Either burn it to a DVD, or, better create a live-usb-drive.
Now how do you go about this? For windows users I would recommend visiting https://rufus.ie/ and using their flashing tool. Select the target and the source, and that's it hit the start button and you install drive will be created. For Mac users and other Linux OSes I would recommend using Etcher by balena. Head over to https://www.balena.io/etcher/ to download it. The process is equally simple. Since there have been many guides written on the subject I will skip it. If you have no idea on how to do this, please head to https://duckduckgo.com/ and search for: "how to create Ubuntu live usb drive on [EnterYourOsHere]". A part of my goal with this blog is getting people to understand IT processes and their computers a bit better, so consider this search a first exercise.
After you are done, keep the usb-driver in your computer and reboot. Next you will need to get your system to boot from that drive. Depending on the manufacturer you will need to hit one of these key during startup: F1, F2, F12, Del, Enter. On a Mac: Hold down Option (Only on models without the T2 securtiy-chip an installation will be possible). Select you usb drive, hit enter and you should be greeted by this screen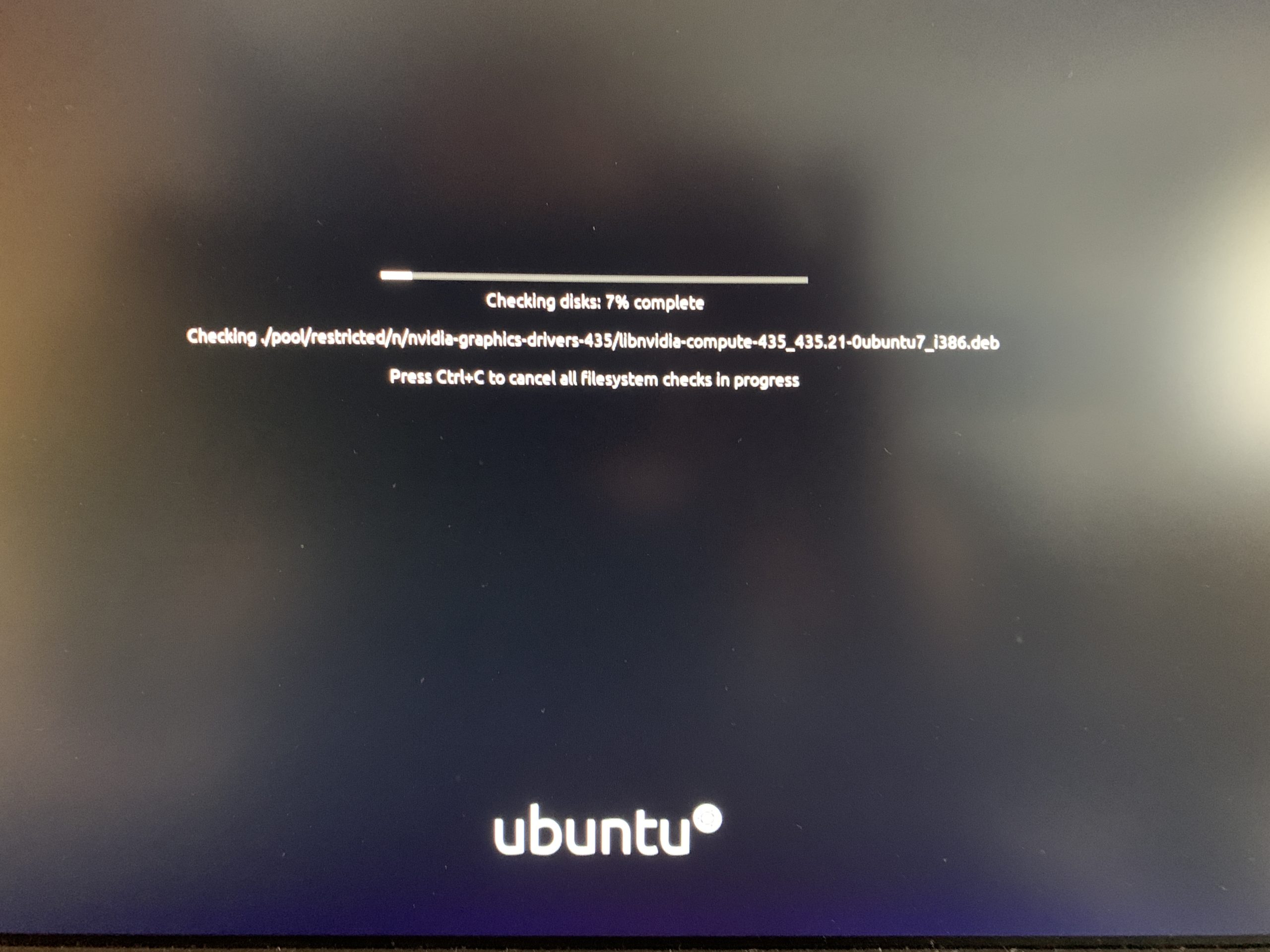 The installer is going to perform a couple of checks here, no need to worry, wait a bit and the next screen will appear.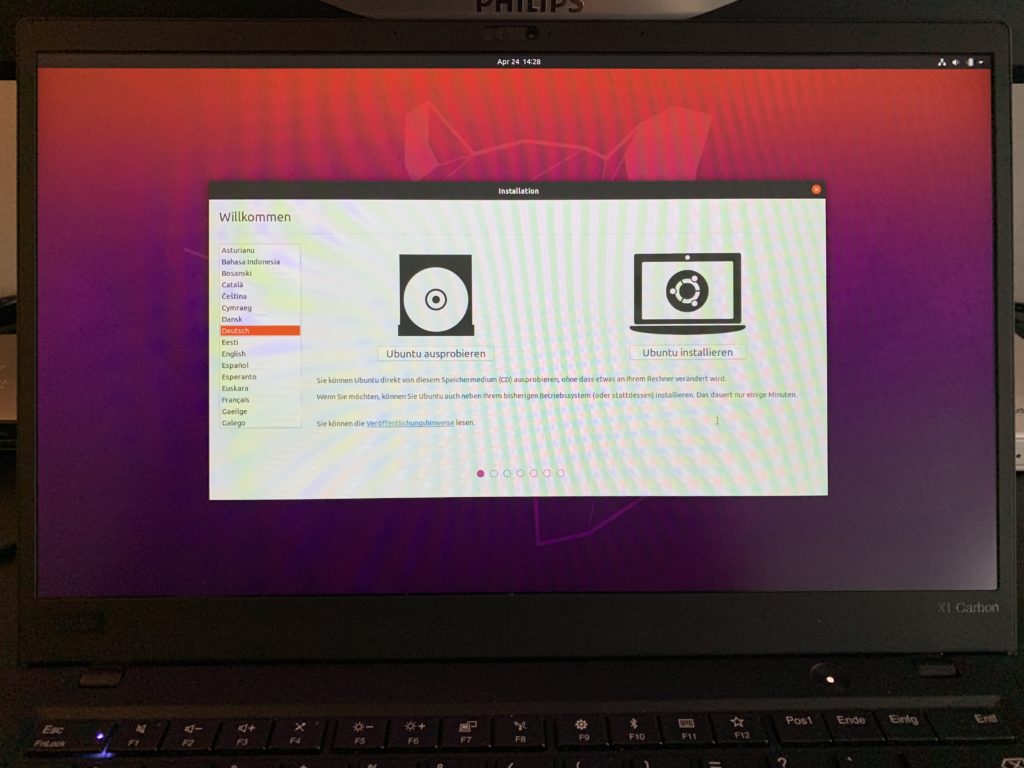 That is one is a very easy one, select your preferred language and hit install, on the next screen, select you keyboard layout (Ubuntu will pre-select a default based on you language, so if you are not sure, leave it as it is) and test it by writing a couple of words below.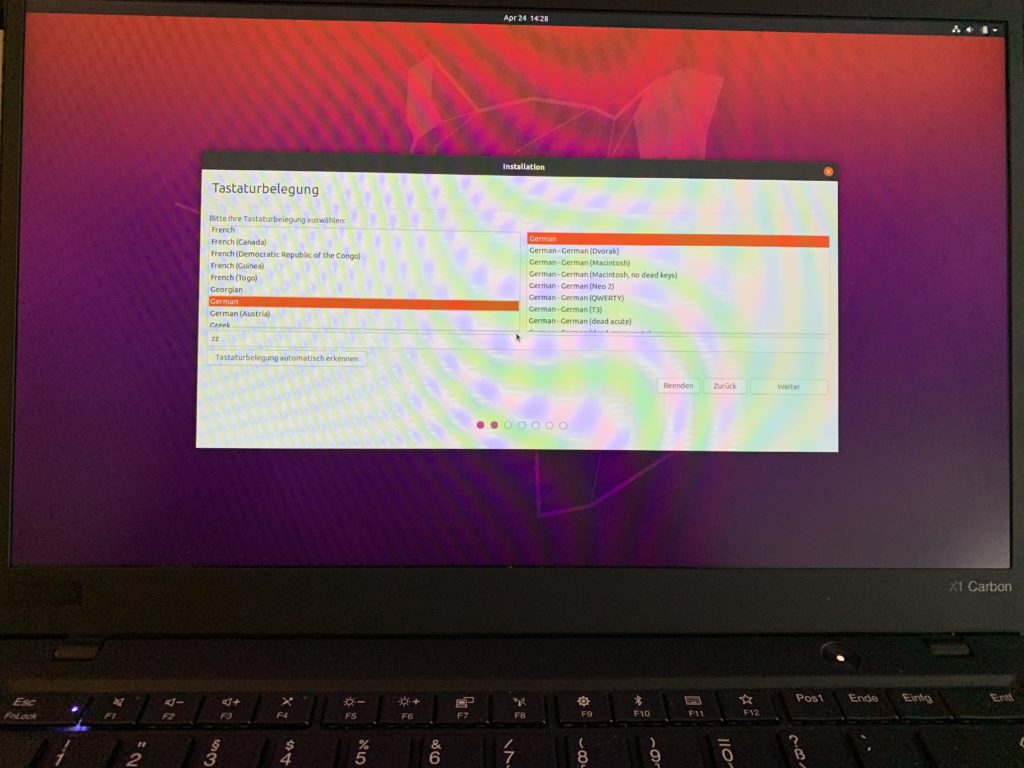 Next you will be asked how much you would like to install. Personally I always go with minimal + updates + third party software an drivers. This will get you a fully functional OS that should work very well with your hardware but only a small set of pre-installed applications. If you are new to Linux, please consider normal install + updates + third party drivers. That selection will get you pretty much all the software you will need to work.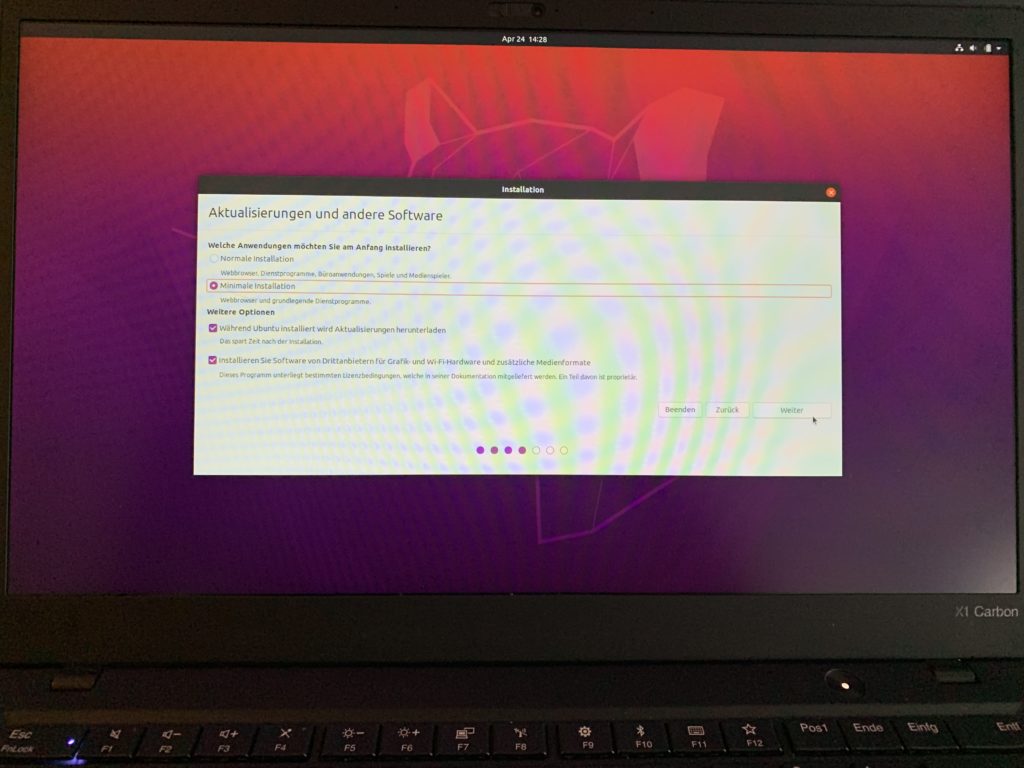 The next step of the setup will be a critical one. You will be asked on how you would like to install Ubuntu on your hard drive. Now my choice was to format the entire disk and install ubuntu on it, but you might want something different, for example install windows and ubuntu side by side. If you have windows on the computer ubuntu should suggest the option by default. If you know what you are doing you can go ahead and do everything manually by clicking something else, but to keep this simple, I will just use the entire disk without any additional voodoo.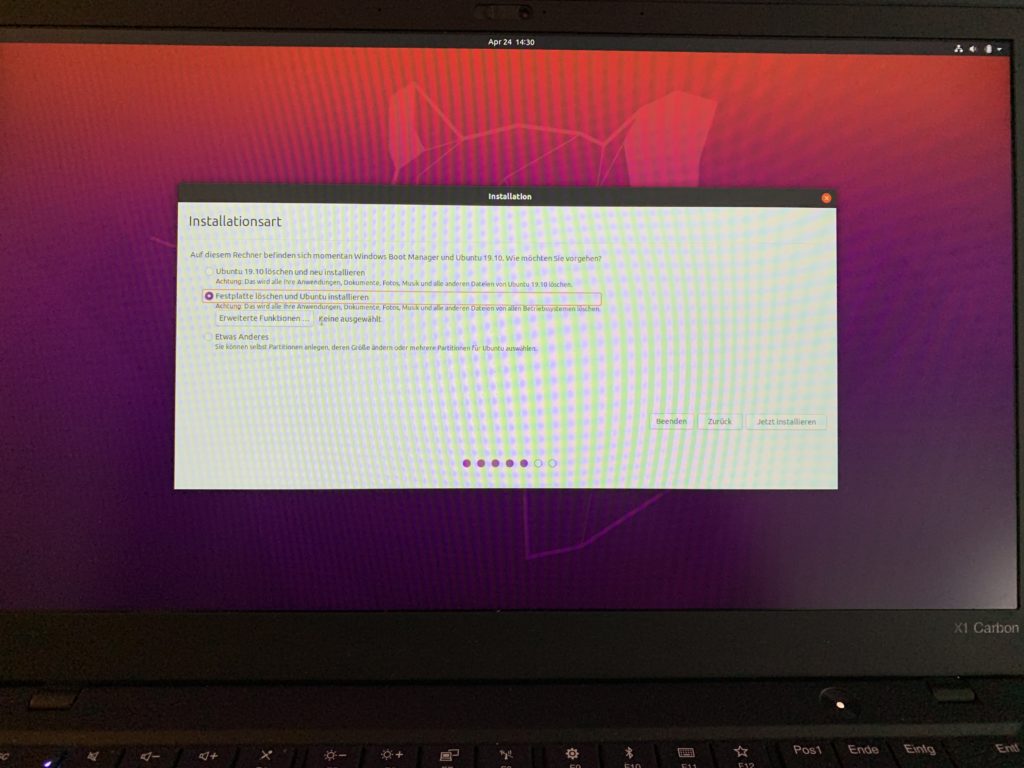 The following steps are rather easy, select your city to determine you time-zone and enter your Name, username, computername and password.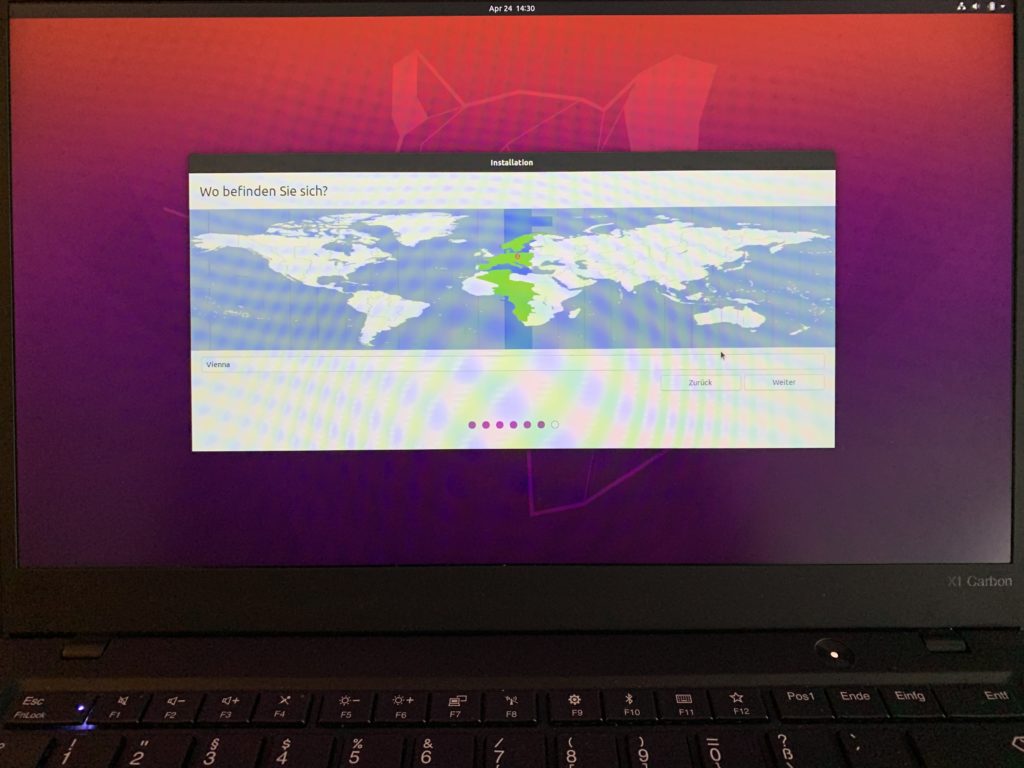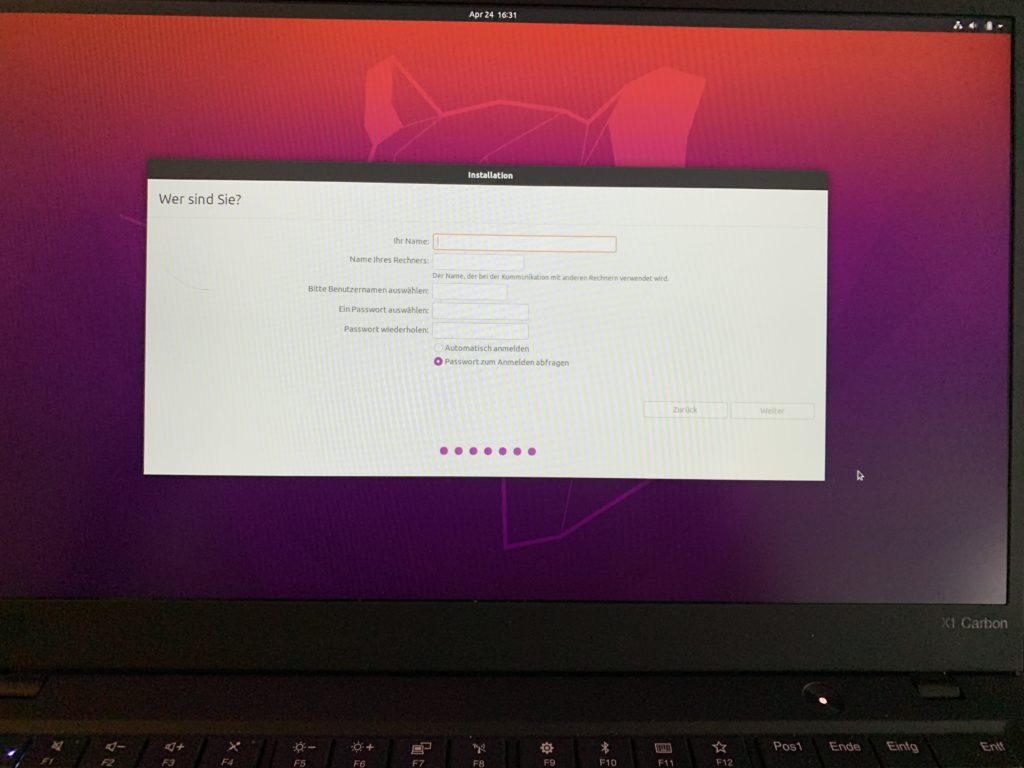 Ubuntu will install for a while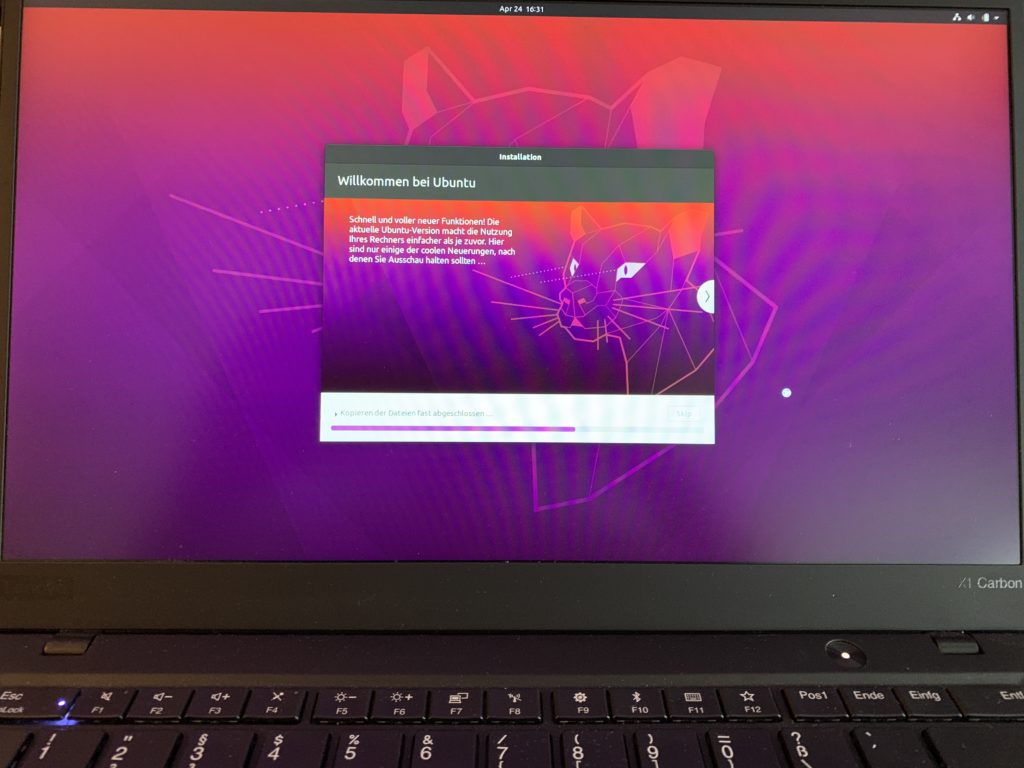 Reboot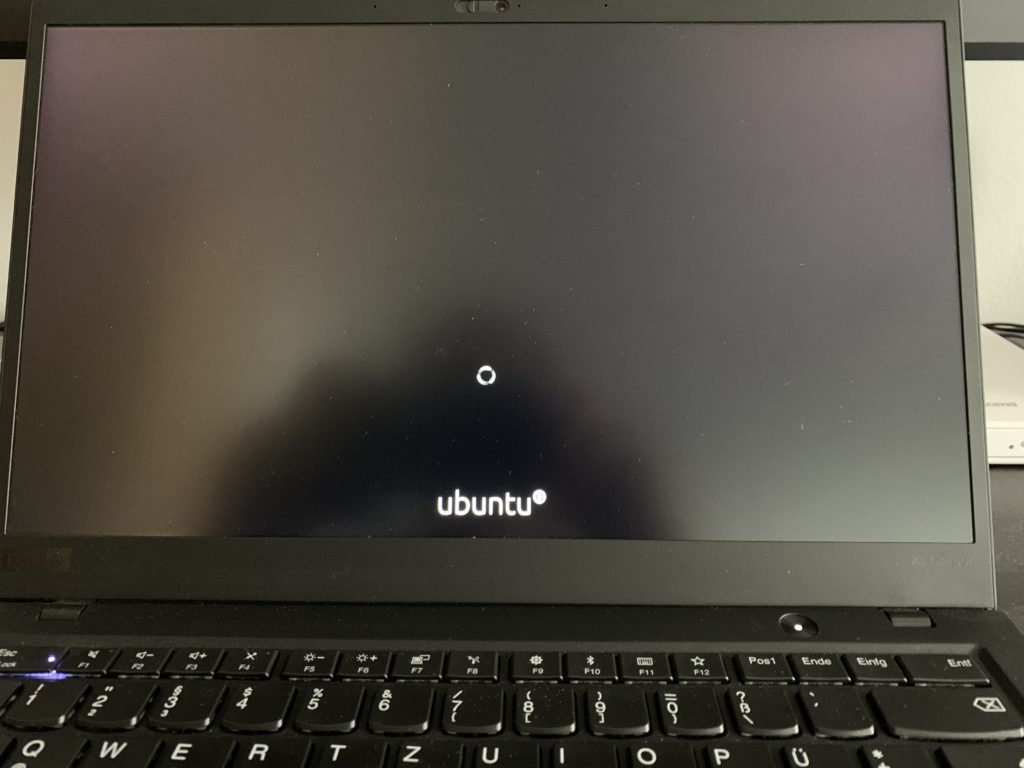 And finally you will see your desktop. That's it!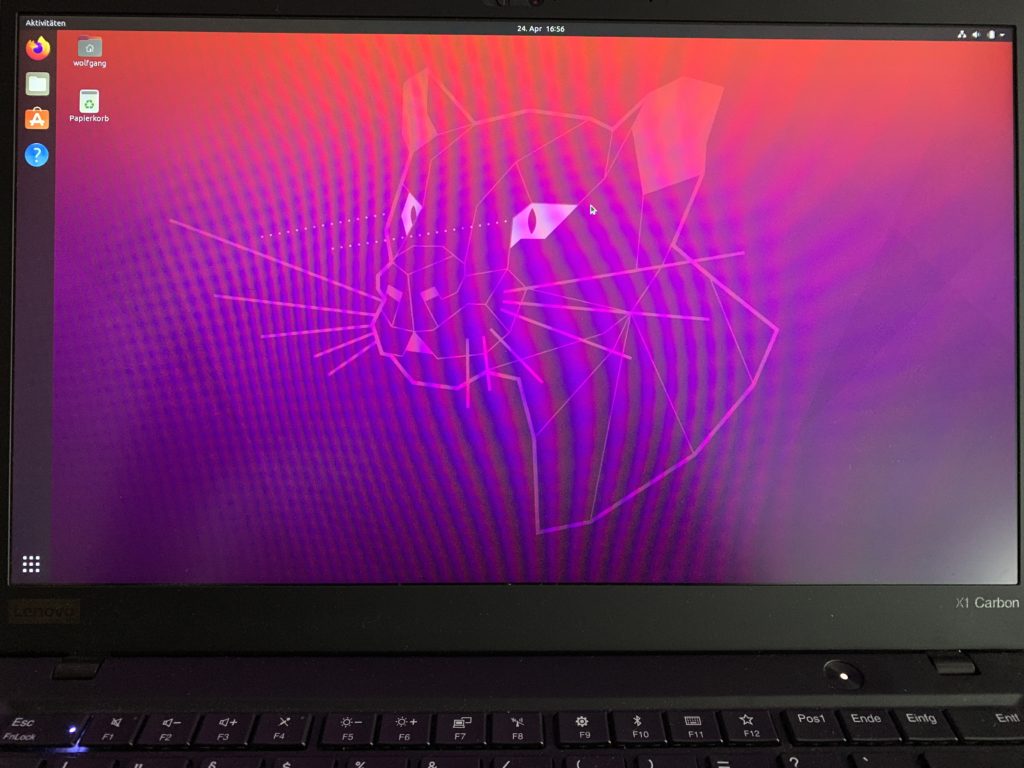 Thoughts on the OS
I am not going to go into technical details of the OS here, while using a newer version of GNOME desktop environment sure is nice all these things have been reported on by many other blogs and Linux news pages. No need to retype all that, my take will be from a users perspective.
First up, to me the new design is gorgeous, one thing that always got me to install a custom theme was the overbearing orange hue of ubuntu, but they shifted towards having more gray and purple in their design and to me it simply looks stunning, especially the default wallpaper.
The software store has been moved to a snap package and that is were I ran into the first issue, by the time of writing this post, I could only install one program at a time, had to close the store and open it again. It only shows an inconclusive error when trying to install more than one. Hope this will be fixed soon. On the plus side, some system apps that were snaps before have been moved back to .deb packages so they perform much better now.
While I like the idea of providing a common way to package applications across all Linux distributions snaps have a tendency of starting much slower than natively packed ones, this has been improved by a lot since the first release but it is still measurable and, worse, you can feel it.
What else, battery life seems to have improved for my thinkpad, always a nice thing, the entire system feels way snappier than 19.10 and the ability to sort your programs into folders now helps keeping the clean look you had right after installation.
Over all, I am very happy with the latest release and youngest LTS version of ubuntu. I hope the smaller issues will be ironed out soon so I can go back to calling this a flawless experience.
But more importantly than having a new vanilla Ubuntu LTS version is that there are now going to be released many other ubuntu based distributions such as Pop!_OS taking a different spin on the user experience but build on the superb stability we all came to expect from Ubuntu.